"Having the metrics in place before we even invest in the fund requester – helping them anticipate what we need to continue funding them – results in stronger partnerships, with all parties working together toward a common goal. This is the new norm, and now I feel like I'm totally in the groove!" — Chelsea Johnson, Program Evaluation Certificate Graduate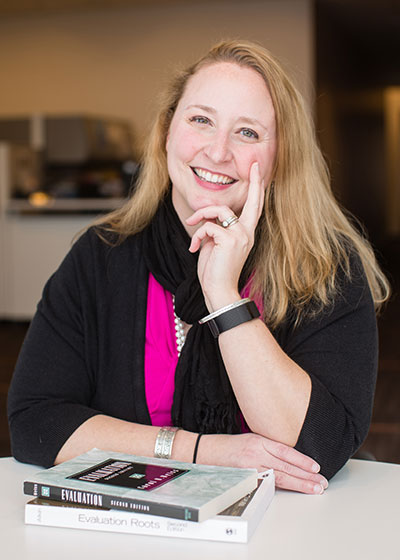 Chelsea Johnson is putting her new program evaluation
skills to good use at the BlueCross BlueShield
of Tennessee Health Foundation.



Getting in the Groove
Chelsea had been working for the BlueCross BlueShield of Tennessee Health Foundation for over five years. As the demands placed on her to evaluate funding effectiveness grew, she felt bogged down. She knew she needed formal training to assess the impact of the company's grants on all parties involved. Thanks to having earned a Program Evaluation Online Graduate Certificate from the University of Connecticut (UConn), she now feels confident in her ability to take on her new responsibilities and be a valuable resource to her company and the nonprofits it supports.
When Chelsea Johnson began with the foundation arm of BlueCross BlueShield of Tennessee, the department was tiny – just her and one other employee. But as it grew to three full-timers, Chelsea found herself increasingly asked to assess and improve the impact the foundation has on the nonprofits it supports.
"I was being tasked more often to identify metrics for the initiatives we support," says Chelsea. "If you don't know what to look for, there are so many things that can bog you down. Plus our nonprofits typically operate on a skeletal crew and don't have the resources to track program effectiveness. If, for example, I were to ask the nonprofit organization to see data on all 2,000 children it serves by the end of the year, there would understandable panic."
In fact, Chelsea says, expanding her knowledge and skills so that she could be a better resource to her clients was a key reason she decided to take the online graduate certificate program in the first place. "The program helped me identify key priorities early on. I'm in a much better position to know the right questions to ask and to make sure the grant requester has the right mindset so that when they implement a program, they know our expectations upfront."
Online collaboration, made easy with VoiceThread and Blackboard
Chelsea admits she felt a bit apprehensive about the online part of the program – after all, she had no previous experience with taking courses online. But as she quickly discovered, the online delivery platform turned out to be a great way to connect with her classmates, even collaborate with them on small group projects.
One tool that made it easier was VoiceThread, an innovative collaboration and sharing platform. Students create short videos in which they discuss their experiences or present assignments, then upload those videos to VoiceThread. Other students can then add their voice, text, audio file, or video comments.
Says Chelsea: "VoiceThread was extremely helpful for working on group projects. Plus the program offered all kinds of other communication methods, from Blackboard discussion groups to email blasts, so I never felt disconnected."
Outstanding support from instructors and classmates
And thanks to all the support she received from her instructors and classmates, she never felt lost. "Dr. Bianca Montrosse-Moorhead, who teaches EPSY 5195 – Practicum, is terrific," notes Chelsea. "Her excitement, responsiveness, and enthusiasm for the material made it very interesting. She was also instrumental in getting everyone to work closely together. For someone like me who had never done real program evaluations, it was great to get feedback from other students. I think it was helpful for them as well. One of my classmates told me that she appreciated all my questions about the process, because she had to stop and think about the various steps involved."
Chelsea also notes that Dr. Holli Bayonas, who teaches EPSY 6194 – Advanced Program Evaluation, offered invaluable insights, helping her identify areas that might be too much to evaluate within the specified time frame. "Her experience was so helpful in driving our projects. We didn't have to spin our wheels, guessing and trying to jam too much into an evaluation."
Practice makes perfect
Best of all, says Chelsea, is the practical experience she gained. During the Advanced Program Evaluation course and final Practicum (Capstone Project), she developed and implemented a program evaluation for Northside Neighborhood House (NNH). This Chattanooga, Tennessee, nonprofit serves clients in financial crisis by providing assistance with utility bills, food, and education.
So what did Chelsea set out to determine? "My purpose was to assess the efficiency and effectiveness of the Direct Assistance program at NNH. My ultimate goal is to use the findings to support strategic planning efforts for the next five years, helping NNH leaders streamline the focus of the program and determine how best to allocate resources going forward."
One of the tools Chelsea especially appreciated learning to use is called Logic Model, which provides a systematic and visual way to identify problems, clarify desired results, and develop a strategy to achieve those results. "You don't know what you don't know until you can see what's missing," she explains. "But using Logic Model, I could see where there were gaps in information, which in turn, helped me develop desired outputs and identify missing resources that would enable us to improve the Direct Assistance Program for NNH. Then I used the model to visually share my ideas and strategies with the client."
Chelsea is already putting her new skills to good use, especially for those smaller grant requesters that don't have the capabilities in place to conduct formal program evaluations. In conclusion, she says: "Having the metrics in place before we even invest in the fund requester – helping them anticipate what we need to continue funding them – results in stronger partnerships, with all parties working together toward a common goal. This is the new norm, and now I feel like I'm totally in the groove!"
__________________________________
"This experience helped me to apply what I have learned in class and gave me the opportunity to successfully navigate the real-life challenges of conducting an evaluation."  — Yordanos Tiruneh, Program Evaluation Certificate Graduate


Practical Meets Academic
Yordanos Tiruneh has a PhD. Yet even with her extensive educational background, she wanted to get the additional practical skills she would need to formally join evaluation professionals. So she decided it was time to get some specific training. She did a Google search, and the Program Evaluation Online Graduate Certificate from the University of Connecticut (UConn) popped up. She called Dr. Bianca Montrosse-Moorehead to get the scoop. A year later, she had earned this prestigious credential and is already putting her new skills to work.
Many students in UConn's online graduate certificate programs need formalized training in a discipline-specific area – people just like Yordanos Tiruneh, PhD, who goes by Yordi for short. Yordi already had a rigorous and extensive training experience in mixed-methods research. Her goal in pursuing this program was to be formally introduced to evaluation as a profession.
"I had been doing public health research for several years," says Yordi, who has a PhD in Sociology with a focus in Medical Sociology from Northwestern University and a Postdoctoral fellowship in Health Services Research from the School of Public Health at Brown University. "I felt I needed to learn discipline-specific theories, principles, and practices that guide professional evaluators to determine what works and what doesn't."
The right fit
After she discovered UConn's Program Evaluation Online Certificate offering, Yordi called Dr. Montrosse-Moorehead to talk specifics. "Bianca walked me through all of the details about the courses and the program. She helped me figure out whether it was the right fit for me. As we went through the program structure and its focus on practical application, I found it very appealing. She told me exactly what to expect, and after earning my certificate, I can say that the expectations were right on."
There's another key reason the program fit her needs so well. As a full-time employee at an Ivy League university, Yordi needed a program that was entirely online, so that she could fit the work into her schedule. She found the online platform to be interactive.
"In the online platform, you have to go through all of the assigned material, think analytically, and synthesize your thoughts in a comprehensive way that communicates your ideas and opinions. Then you have to post your reflections to the class. It takes a little longer than you would need to interact in a traditional classroom, but it was well worth it. I learned so much from the faculty, as well as from my classmates, who had a lot of practical experience in evaluation."
Yordi credits VoiceThread – an innovative sharing platform – with providing the tools she and her classmates needed to work collaboratively. "Using VoiceThread, we could post videos instead of written comments. When my classmates posted their video comments, I was able to attach voices and faces to specific students. It is like a virtual classroom, but without having to be with all my classmates at a specific time and place."
Yordi greatly appreciated the practical experience she gained during the program. All of the instructors provided real-life examples, talking about the specific challenges they faced and how they tackled them. "You can learn the theory, but getting insights into real experiences from seasoned evaluators was very enriching. They also know so many people in the field of program evaluation. They know where to send you for specific resources or to make connections in the evaluation community." And she adds, "Throughout the program, the faculty was very accessible by phone and by email, and they were always supportive and helpful."
With its focus on practical skills building, during the final course, EPSY 5195 – Practicum, Yordi and her classmates had the opportunity to conduct an actual program evaluation. "I evaluated a diabetes education program in a clinic that serves working poor families," explains Yordi. "I evaluated whether this specific program is being implemented as planned and has resulted in the desired outcomes. This experience helped me to apply what I have learned in class and allowed me to successfully navigate the real-life challenges of conducting an evaluation."